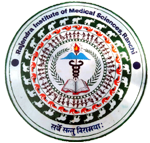 Rajendra Institute of Medical Sciences
Ranchi, Jharkhand
From the Director's Desk…
In its journey of over 55 years RIMS has always stood firm on its central mission of rendering best health care services and medical amenities at affordable costs, even to the hinterlands and far-flung areas of the rural community, with utmost professionalism. It gives me great pride to see all those smiling faces walk out of the campus, content and satisfied.
We embrace the principles of social equity and excellence in service and welcome all those who join us in this noble endeavor of alleviating human sufferings through healing hands. With state-of-the-art technology and consultants who are among the cream specialists in the city, we are able to offer world class services to one and all. The number of MBBS seats has been increased from 90 to 150 and we are trying for 250 seats in the coming years. We are also producing 184 postgraduates every year. We ensure the best-in-class education and training facilities to our students with a highly skilful and dedicated faculty. We strive to graduate students who emerge as seasoned and confident healthcare practitioners. We have been rated as 2nd among the best emerging medical colleges in India for 2016 by an India Today survey.
Here, at RIMS we provide free medical/diagnostic services including essential medicines to the BPL patients and patients of families having annual income less than Rs. 72,000/annum. It gives me great pleasure to share with you that various works are undergoing as well as some more works are proposed for the advancement of the institute and the well-being of the people who visit us. Just to name a few, 24- hour Accident and Emergency services, specialized medical, surgical, laboratory and diagnostic services, Licensed Blood Bank, 24-hour Pharmacy, state of the art Ventilators and Monitoring equipments and also Radiology and Imaging services, Haemodialysis, Neonatal care, Dental care, Antenatal and Postnatal care & family planning, etc. We also offer various super specialty services in Cardiology, Neurosurgery, Urology, Pediatric surgery, Radiotherapy, etc. As we look forward, the next few years are going to be even more exciting for all of us.
It is the responsibility of every citizen to promote and protect the general health and welfare of the population. There are number of areas where we have made improvement & added a few new services for the people like online registration facility for OPD, free food for mothers of patients under 14 years of age, free lenses for cataract patients, new Central Sterilization Supply Division, capacity of emergency dept. upgraded from 10 to 20 along with cardiac monitor, ventilator & X-ray machines, Generic medicine centre opened at the main entrance for ease of access to patients, centre for distribution of free medicines to OPD patients and gynecological patients, indoor services in urology & oncology, Laser treatment for skin diseases, PMR and many more. Specialist services have been started at our Rural Health Training Centre, Ormanjhi.
Also, necessary works have been done to improve the services provided in superspeciality departments. Outdoor services in cardiothoracic surgery have recently been started in our institute; Doctors from AIIMS, New Delhi & PGI Chandigarh are helping in establishing the cardiothoracic surgery division. New divisions are being started like Neonatology, Surgical Oncology, Plastic Surgery, Surgical gastroenterology, Nuclear Medicine, etc. We are in process to start the DM in Neonatology & M Ch in Pediatric Surgery from next academic session. Dentistry department has been converted into a Dental Institute and we are hopeful to admit 50 BDS students from next academic session.
E-Hospital services & Hospital information management system (HIMS) will be functional in the next few months. To provide single window system for diagnostic services a Central Collection centre will be made in the Central Pathology for 24 hour Sample Collection and distribution of the same with Bar Codes. Facility of waiting room with TV is being added for the patients as well as their relatives. To improve quality of food & services in the larger interest of admitted Patients, the Hospital Kitchen is going to be outsourced soon. Mechanized laundry facility is also going to be started by the end of this year.
An Academic Block is being constructed which will consist of a state of the art Library, 4 lecture theatres, 3 examination halls, 2 common-rooms for Boys & Girls, canteen and gymnasium. Construction of 100 bedded paying ward, 50 bedded central emergency, 50 bedded trauma centre along with lecture theatre having capacity of 300 students are under construction. 500 bedded girls' hostel and 500 bedded boys' hostel, Para Medical School and a stadium are in the last phase of construction. Medical Research Unit (MRU) with the support of ICMR, State Cancer Referral Centre & Geriatric ward with the support of the Central Government & a Hemophilia Day Care centre with the support of Hemophilia Society are going to be established very shortly.
I envision making RIMS a model of sustainable medical care in the country where our mere focus is not just to add years to life but to add life to years. I am certain that we will not give-up until the mission is accomplished and every life we touch, experiences the best aid and facilities we provide. Wishing you good health at all times!
Dr. B.L. Sherwal
Director
RIMS, Ranchi
RIMS, Bariatu
Ranchi, Jharkhand, India

Ph : +91-651-2541533
Fax: +91-651-2540629