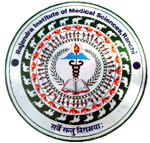 राजेन्द्र आयुर्विज्ञान संस्थान, रांची
Rajendra Institute of Medical Sciences
An Autonomous Institute under the Govt. of Jharkhand
Ranchi, Jharkhand
From the Director's Desk…
The history of Rajendra Institute of Medical Sciences (RIMS) and erstwhile RMCH dates back to 1958 and before.
while AIIMS, New Delhi, was being conceived and started at New Delhi; the then first Chief Minister of Bihar, Shri Krishna Singh, a visionary himself, envisaged establishing a Medical College, with all the facilities of AIIMS, in erstwhile Bihar.
Colonel Deewan Pitamber Nath, the then Inspector General of Civil Hospitals, was given the task to search for a suitable piece of land for the establishment of such a medical college. After a monumentous search Colonel Nath Came up with 214 acres of land in Ranchi, the summer capital of undivided Bihar.
After the construction of the buildings which started in 1958, the first batch of students gained admission in 1960 in this medical college, which was named Ranchi Medical College, with an intake capacity of 150 MBBS students per year.
This medical college was renamed Rajendra Medical College and Hospital in 1963 after the death of the fir st President of India.
Since its commencement, with 150 undergraduate seats for MBBS, the glory of this medical college was never undermined, and it produced several graduate and postgraduate doctors of world class calibre working in different countries across the world.
In the year 2002 Jharkhand Government with the support of the Centre, upgraded this medical college to Rajendra Institute of Medical Sciences to serve the people of Jharkhand, similar to AIIMS in New Delhi.
Presently RIMS has 150 UG admissions annually and 195 PG seats and provides PG and Diploma degrees in 19 subjects.
RIMS being a welfare hospital provides free medical and diagnostic services, including essential medicines to the BPL patients with family income less than 72 thousand rupees per annum and lenses to cataract surgery patients, operated in the ophthalmology department.
RIMS also started Super-Specialty Services in Cardiology,Cardiothoracic and Vascular surgery and Oncology.
However Neurosurgery and Urology have been working since long.
RIMS has also started its own Dental Institute having the capacity of admissions to 50 BDS students annually.
A Nursing school and college and a Paramedical school are already operating under RIMS.
Apart from the regular routine services to meet the medical needs of the society, RIMS also provides free food to attendants of pediatric patients below age 14 years.
Besides the above, RIMS provides free of cost Mammography and Pap smear testing for cancer screening for the ladies. Laser treatment facility has been started in the Dermatology (skin) department.
Our Blood Bank, we can proudly state, is the only center in Jharkhand, with Single Donor Platelet facilities.
E-hospital services has reached completion and is about to function soon.
Two 500 bedded hostels, 100 bedded paying ward, Ophthalmic Institute, Trauma Centre, Central Emergency, Administrative building and Rural Training Center, has been initiated in the last two years and are nearing completion.
20 bedded Urology and 10 bedded Oncology indoor facilities are already providing service since February 2016. Mechanized laundry system has also been established.
The existing Central Emergency is upgraded with Cardiac monitors, Ventilators, x-ray machines, and the bed capacity has been increased from 10 to 20.
Medical gas pipeline facility has been made available in the Super-specialty building. CSSD (central sterilisation) and free of cost online OPD services as well as OPD facilities of CTVS & PMR have already commenced here.
EVIN (Electronic Vaccine Intelligent Network) through Android Mobile Phone has been initiated for the inspection and for investigation of 215 cold chain point vaccination.
We have also started Telemedicine Services in six selected Primary Health Centres of the state.
We are committed to a healthy Jharkhand and will continue to work on this motto till our goal is achieved.
Prof. (Dr.) D. K. Singh
Director
RIMS, Ranchi
RIMS, Bariatu
Ranchi, Jharkhand, India

Ph : 0651-2776000
Fax: +91-651-2540629